Julie Kiddoo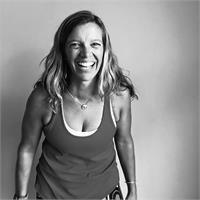 Julie lives in Eagle-Vail, (Avon) Colorado with her husband, Tom, and their two children, Charlie and Catie, and their Golden Retriever, Nala. Julie is the owner Revolution Power Yoga, a Baptiste Affiliate studio. She is a 500 hour certified Baptiste Yoga teacher and a LifeForce Yoga Level 1 practitioner. Julie loves being on her yoga mat, spending time in nature, road trips with her family and having fun with friends and family.
After her first Baptiste Yoga class in 2007, Julie felt something different. She was touched, moved and inspired in a way that she had never been before. Through experiences on her mat, Julie learned that ultimately she was the only one who had the power to change her life. Julie's intention for her students is to inspire and empower so that they expand the boundaries of what they think is possible for themselves on and off their mat.
Julie Kiddoo instructs the following:
Vinyasa Power Yoga is a fluid, powerful, style of yoga that links movement and breath together and is based on intuition rather than tradition. Vinyasa Power Yoga heals, detoxifies and exhilarates the body and mind with emphasis on movement, balance, and intention.




This Vinyasa power flow will prepare your mind and body for all levels of winter sports from beginner snow shoe enthusiasts to expert skiers! We will focus on strengthening and balance specifically designed to enhance your winter performance.




This class is an alignment based vinyasa class. The pace will be slower than our power and flow classes so we can focus on alignment and posture. This class is great for anyone working with injuries, or just wanting to brush up on the foundations of our practice.