Rachel DeLong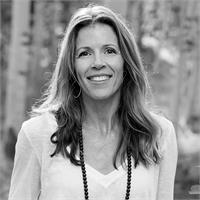 Rachel began practicing yoga in 2001 as a way to enhance her athletic endeavors. When she discovered Baptiste Power Yoga in 2004 it seemed to be the perfect fit. This powerful practice transformed her life and yoga practice. With a new sense of inspiration and freedom, in 2009 she attended Level 1 training with Baron Baptiste. She attended Level 2 in 2010 and Level 3 in 2011. She is an associate teacher in the process of becoming a certified Baptiste teacher. She is also an ambassador and mentor for Africa Yoga Project which she is passionately raising money for through Yoga Jam events. Join Rachel for a class filled with vitality, empowerment and possibility. Rachel lives in Eagle, Colorado with her two sons and her husband.
Rachel DeLong instructs the following:
Vinyasa Power Yoga is a in a heated 95 degree room with a powerful style of yoga that links movement and breath together and is based on intuition rather than tradition. Vinyasa Power Yoga heals, detoxifies and exhilarates the body and mind with emphasis on movement, balance, and intention.