Brooke Skjonsby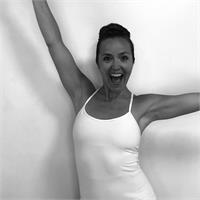 Brooke grew up in the Midwest and moved to Boulder in 2000 to attend the University of Colorado, where she earned a degree in marketing and began practicing yoga at a Bikram studio in town. She moved to the Vail Valley in 2006, where she fell in love with hiking, biking, snowboarding and trail running. After practicing at Synergy and Yoga off Broadway for many years, Brooke's first class at Revolution Power Yoga was in 2014. Fast-forward three years, she has just completed her 200-hour Baptiste inspired yoga teaching training at RPY. Brooke teaches yoga to empower and inspire so that people can access vitality, freedom and transformation. She has a passion for community, connection and celebrating diversity. When not on her mat, Brooke proudly wears the hat of Vail Mountain Marketing Manager and loves spending quality time with friends and family in addition to taking advantage of the many activities in the beautiful outdoors.
Brooke Skjonsby instructs the following:
Power Yin starts off with a 30 minute power vinyasa practice based on Baptiste Yoga's 'Journey into Power' and ends with a 30 minute deep rinsing yin practice focusing on longer holds and deeper stretches, leaving you feeling refreshed and restored. This class is heated to 90 degrees.




An energizing, challenging and powerful class that will leave you feeling rinsed and revitalized. Expect to move, sweat and leave transformed! This is based on Baptiste Yoga's 'Journey Into Power' sequence and suitable for all levels. These classes are heated up to 95 degrees.